At Crowne Plaza Auckland, we know that sustainability is as important to you as it is to us. We are continuously seeking new ways to minimise our impact on the environment and reduce energy, water and waste.
Crowne Plaza Auckland is proud to be a part of 500+ New Zealand businesses signed up to the Tourism Industry Aotearoa (TIA) Sustainability Commitment. This initiative sees New Zealand tourism businesses uniting together, to achieve the vision of creating a truly sustainable tourism industry.  it's important that we all do our part to ensure positive long-term contributions for the development and sustainability of our natural environment.
Crowne Plaza Auckland focuses on the following Environmental Initiatives:
In-House Bee Hive
With the help of Bees Up Top, our rooftop hive is home to thousands of 'Rescue' Bees who have been given a new buzz of life at Crowne Plaza Auckland. As pollinators, bees play a key part in every aspect of our ecosystem.
Bees Up Top provide monthly hive maintenance, and once the bees have produced enough honey, they extract, jar and return the 100% raw honey for our guests to enjoy at breakfast in Aria Restaurant.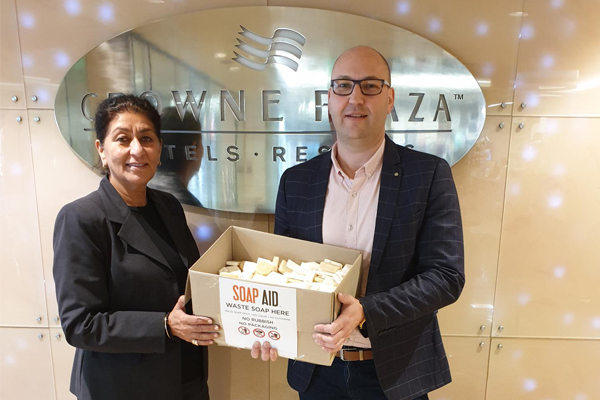 IHG Greener Stay
The Greener Stay Initiative enables guests to help by recycling towelling, or reducing the amount of times in-room amenities are washed and replaced. Guests can choose to bypass housekeeping to conserve energy and water, preserve resources and reduce waste. In addition, guest can earn 500 IHG Rewards Club Points per stay* when opting into a Greener Stay.
*Requires a minimum of two consecutive nights; maximum award of 500 points for total stay.
Paperless Check-in
Back in May 2019, Crowne Plaza Auckland made the switch from paper to a digital solution at check-in. We've stepped up our green game swapping out traditional paper reservation forms and printed receipts for mounted tablets at our hotel Front Desk.
This green system sets to saves countless sheets of paper which would traditionally be printed for every new guest as a part of the hotel check-in & check-out procedure  (approximately 500,000 sheets of A4 paper per year).
Soap Aid
Crowne Plaza Auckland is proud to be an official hotel championing the Soap Aid programme. Soap Aid is a not-for-profit committed to saving children's lives through improved hygiene whilst positively impacting the environment. This is achieved by reprocessing and delivering recycled hotel soap to disadvantaged communities.
To find out more about Soap Aid, click here
IHG Bulk-Size Bathroom Amenities 
IHG is the first global hotel company to commit all brands to removing bathroom miniatures. Our entire hotel estate of 5,600+ hotels and almost 843,000 guest rooms will switch to bulk-size bathroom amenities, with the transition to be completed during 2021.
Read more here.
Other Environmental Initiatives at Crowne Plaza Auckland 
Tesla electric car charging station
Removed plastic straws
Biodegradable and compostable coffee cups
Working with Winnow to help reduce food wastage in kitchens