New Zealand is a country known for natural beauty. At Crowne Plaza Auckland, we know that maintaining the natural wonders that draw visitors to this side of the world is vitally important for our business- and it's also just the right thing to do.
We are continuously seeking new ways to minimise our impact on the environment and reduce energy, water and waste so that
New Zealand can continue to be a nature-filled haven for tourists and locals alike.
 

Below are the environmental initiatives that Crowne Plaza Auckland focuses on currently, divided in to three important segments:  the Environment, the Community and Engagement.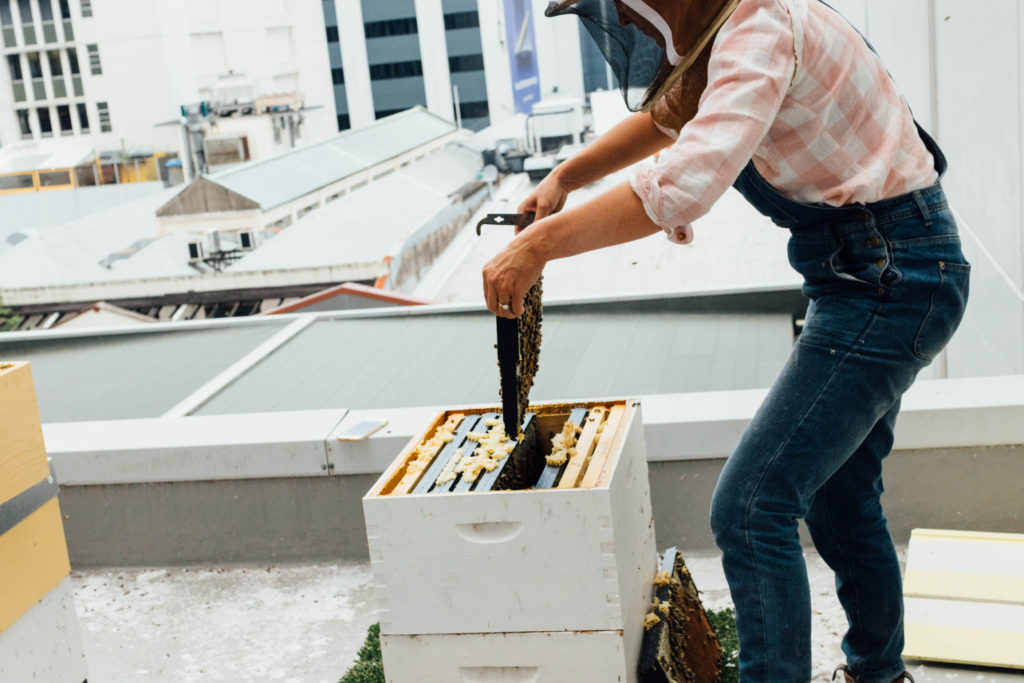 Paperless Check-in
Back in May 2019, Crowne Plaza Auckland made the switch from paper to a digital solution at check-in. We've stepped up our green game swapping out traditional paper reservation forms and printed receipts for mounted tablets at our hotel Front Desk.
This green system sets to saves countless sheets of paper which would traditionally be printed for every new guest as a part of the hotel check-in & check-out procedure  (approximately 500,000 sheets of A4 paper per year).
Biodegradable Coffee Cups
Conventional disposable coffee cups can't be recycled in New Zealand and cause tonnes of waste. Coffee has also featured at the forefront of sustainable thinking in recent years. Using plant-based bio plastics for the coating and lids means the whole cup is compostable.
EV Chargers
Electric Vehicles are the future of transportation and have the potential to dramatically reduce the amount of pollution from fossil fuels. We have EV chargers because we know that electric vehicles are the key to cleaner cities, leading to less harming air pollutants and carbon emissions.
Cityhop Partnership
At Crowne Plaza, we know that smart business travel increasingly means melding excellence in accommodation with innovative transport solutions to match the crowded urban landscape. For business and leisure travellers alike, transportation is a central component of a successful trip. That's why Crowne Plaza is partnering with Cityhop to offer guests exclusive benefits on this hop-in-and-go car sharing service. Cityhop has two electric vehicles located on-site at Crowne Plaza's Atrium Carpark. To learn more visit https://auckland.crowneplaza.com/cityhop/
With the help of Bees Up Top, our rooftop hive is home to thousands of 'Rescue' Bees who have been given a new buzz of life at Crowne Plaza Auckland. As pollinators, bees play a key part in every aspect of our ecosystem.
Bees Up Top provide monthly hive maintenance, and once the bees have produced enough honey, they extract, jar and return the 100% raw honey for our guests to enjoy at breakfast in Aria Restaurant.
IHG Bulk-Size Bathroom Amenities 
IHG is the first global hotel company to commit all brands to removing bathroom miniatures. Our entire hotel estate of 5,600+ hotels and almost 843,000 guest rooms will switch to bulk-size bathroom amenities, with the transition to be completed during 2021.
Read more here.
Straw-Free Restaurants and Bars 
All IHG properties around NZ have joined the global movement in going plastic straw free. This is our part in reducing micro-plastic pollution ending up in gutters, storm drains and eventually our oceans. This attempts to reduce the impact on marine life and pollution on our waters and coastline.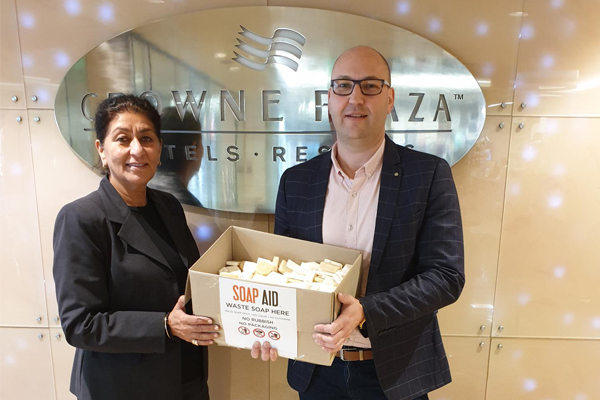 Soap Aid
Crowne Plaza Auckland is proud to be an official hotel championing the Soap Aid programme. Soap Aid is a not-for-profit committed to saving children's lives through improved hygiene whilst positively impacting the environment. This is achieved by reprocessing and delivering recycled hotel soap to disadvantaged communities.
To find out more about Soap Aid, click here
KiwiHarvest
Crowne Plaza Auckland is a proud supporter of KiwiHarvest. This national food rescue charity seeks to reduce the negative impact of food waste by resurfacing good surplus food and distributing it to those in need. Aria Restaurant's Dollar Diners initiative seeks to raise funds for KiwiHarvest by giving diners the option to add a $1 donation to their total bill.
IHG Greener Stay
The Greener Stay Initiative enables guests to help by recycling towelling, or reducing the amount of times in-room amenities are washed and replaced. Guests can choose to bypass housekeeping to conserve energy and water, preserve resources and reduce waste. In addition, guest can earn 500 IHG Rewards Club Points per stay* when opting into a Greener Stay.
*Requires a minimum of two consecutive nights; maximum award of 500 points for total stay.
Giving for Good Month
Giving for Good Month is an IHG Global initiative, which means every IHG hotel in the world participates for an entire month in giving back to its communities. Crowne Plaza Auckland is no stranger towards this initiative, and this year the month of September was all about giving back to our community.
The activities arranged by the hotel varied from blood donations to bake sales and so much more. Every employee had a chance to participate in at least one activity. Some team members even managed to take public transport to work instead of going by car for the entire month!
Sustainable Tourism NZ
IHG is proud to be amongst the New Zealand businesses signed up to the Tourism Industry Aotearoa (TIA) Sustainability Commitment- a pledge to protect and enhance the environments on which tourism businesses depend.
The commitment requires companies that achieve ambitious economic goals to share the overwhelming benefits with supportive host communities and contribute to restoring, protecting and enhancing our natural environment.