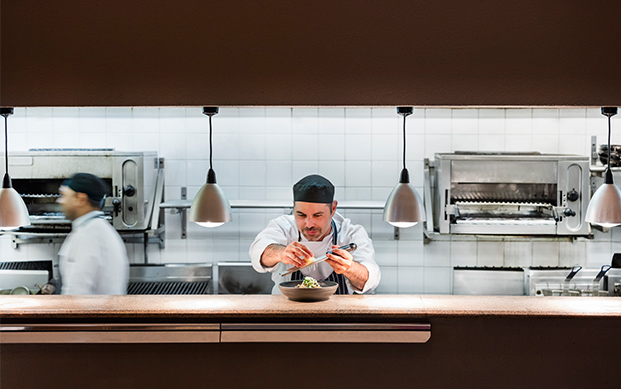 Whether you are a guest at Crowne Plaza Auckland hotel, or out for a day in the central city
Stop by Aria Restaurant and Bar for delicious food and great atmosphere.
A TASTE OF US
Start your day the right way.
The team at Aria Restaurant and Bar begin their day a little earlier than most. From the first moment you enter your senses will be filled with the smell of freshly baked pastries. Eat your fill thanks to the flavour rich morning buffet; you can also watch your breakfast get cooked in-front of you at the live cooking egg station. For your morning vitamins make sure to visit the fresh juice bar.
 Dine out tonight
Celebrate the evening in central Auckland, whether you are winding down after a long day of business or you're just starting your evening, Aria Bar and Restaurant is the place to be. Our spacious dining and bar area means we are as perfectly suited to host large celebrations as we are to host intimate dinners with loved ones or friends. If you're planning an evening at the Civic Theatre, Town Hall or Skycity, Aria Bar and Restaurant is only a few minutes away and we've got the perfect pre-theatre menu.
Whether it's breakfast, lunch, drinks or dinner, enjoy delicious dining at Aria Restaurant in the heart of Auckland city.
Enjoy a special night out with our pre-theatre dining menu
Crowne Plaza Auckland is renowned for its central location, being right in the heart of Auckland's entertainment and cultural hub. We are just a short walk away from top theatre and concert venues - places like the Town Hall, the Civic, Aotea Centre and Q Theatre.
The pre-theatre dining menu at Aria Restaurant is the perfect curtain raiser for your evening. Whether it be for dining before heading to a concert or an intimate occasion over drinks, Aria Restaurant's great food and atmosphere make it the ideal choice for all dining occasions.
Make your experience more complete by choosing from our $33 express menu, $55 two-course, or $65 three-course set menu.
You are more than welcome to have one or two courses before your show, and then return for dessert afterwards.
Meet the team responsible cooking up a storm morning, noon and night.
Out of a passion that first awakened on a school trip to France, our executive chef Nick Harlick has weaved a career full of flavor and adventure and even cooked for a celebrity or two along the way.
Lucky for us and you, he now calls Aria Restaurant and Bar home. Working in a restaurant attached to a hotel means guests from all over the world dine with you daily and that in turn means that a mastery of international cuisines is a must. Using fresh, locally sourced ingredients from the Auckland region, Nick and his busy team try to reflect a varied range of cultures through their dishes.
Opening Hours
Book your table online or
if you have a group enquiry please call us on  09 375 5204
Breakfast: Daily 6:30am – 10:30am
Lunch: Daily 12:00pm – 2:00pm
Dinner: Daily 5:30pm – 10:30pm