Travelling to and from Auckland Airport
Many of our guests fly into Auckland Airport – so what is the best way to get into central Auckland when you are staying with us at the Crowne Plaza Auckland?
The airport is approximately 26km from the CBD and depending on the traffic should take about 30 minutes by car to downtown Auckland.
Those who have travelled to Auckland before may remember the Skybus which used to transport travellers between the airport and downtown, but it sadly fell victim to the pandemic.
A new service train/bus is now operating called Airport Link. It is definitely the cheapest way to get into the city and reliable – depending on what time you land. Here's the timetable.
You will need an AT HOP Card if you are using the AirportLink because cash is not accepted.  A kindly bus driver might let you from the airport on but best have a ticket than relying on this method. The HOP card can be used on  all of Auckland's buses trains and ferries.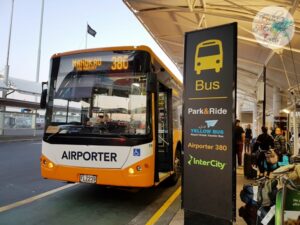 You can purchase them from Take Home Convenience in the international terminal, and AirGo Convenience at the Domestic Terminal.
If you would rather travel by car, there are always taxis on hand. You should expect fares around $65-75 into the Crowne Plaza Auckland, or there are shuttle services too.
To those who Uber, Ola or Zoomy (our New Zealand option), rideshare zones are located behind the multi-story carpark at the domestic terminal and outside door 11 at the international terminal.  Probably easiest to ask somebody to point you in the right direction. More details here.   
And if you are picking up a rental car, remember we have discounted parking at the Atrium Carpark which is right next door to the Hotel.